Monday 27th August – Monday Session Week 7 – Pump/Bar class
This is the start of the second half of this hellish program. Apparently we are going to be measured again. I have no feelings about this at all, as I believe that the measuring is at best slapdash and at worst rigged.
Let me explain. When bullshit science woman stuck electrodes on us, she also weighed us. The next day, when we went up to the gym, Andrea also weighed us. The difference? 4kg. I had apparently gained 4kg in those 24 hours. She also measured us with a tape measure. The tape measure was, I must say, extremely loose.
The cynic in me explains this by saying that at the end of the program she can re-weigh us, with correctly calibrated scales, and remeasure us, with a stricter measuring regime, and lo and behold look at the difference these 12 weeks has made and did you know we have a discount on a full year membership? I'm not sure this is actually the case, but nonetheless, any measuring done holds little meaning for me. Oh and also, I know that I've lost absolutely no weight, and don't need, and certainly don't want, to be told that.
Today we did Pump class. This is where you do things while holding a barbell with a few kilos on each end. Squats, lunges, bicep curls. All manner of things, hitting all manner of muscles. Following that was some ab stuff.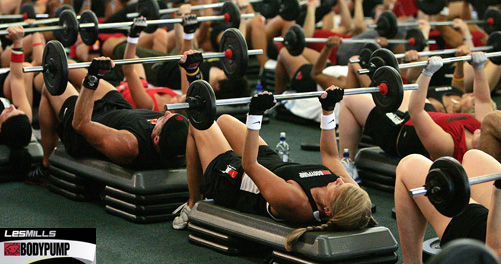 The whole idea of pump is interesting. It's taking an "old school" exercise – lifting weights – and jazzing it up to make it "fun" and new. It's neither, of course. It's lifting weights. While moving around. It's actually quite dangerous in its own way. At one stage we did one where we lay on our back on a Reebok® step thingummy (see the pic here) while curling the bar towards our face. She laughingly called it the "skull crusher" but given this was somewhat towards the end, and given I have no strength or stamina, my arms were shaking uncontrollably, and I was worried I was going to drop it on my face. So I didn't do too many of them.
Highlight of the day was, as usual for me, the music. It was your usual selection of shitty dance music. Then she said "how about some rock? Who wants to hear AC/DC?" Now, I hate AC/DC. It's a Long Way To The Top is a fun song, and I think Bon Scott was every bit as camp and fun as Shirley Strauchan, but musically they are kinda shit. Nonetheless the idea of Highway to Hell in the middle of all this dancey crap was refreshing. Then she put on this. I assumed she couldn't find the accadacca track, and so just skipped to the next one. But no.
(Actually I suspect this wasn't the exact one. There seems to be lots of shitty dance remixes of shitty AC/DC songs on the web. Who knew?)
It made me laugh. Out loud.
So anyway, after that she said "let's keep up with the rock theme" and then she put on Bon Jovi's "You Give Love A Bad Name" which made me laugh all the more.
It meant that when my boss asked me again if I enjoyed, after I said "no of course not" (and again she was surprised, cos she finds pump fun) I had to follow it up with "but it did make me laugh".